Look around you. Wherever you are, it doesn't matter, just take a look around and be aware of how the construction industry has literally shaped your surroundings. The streets and sidewalks, utilities, factories, schools, office buildings, houses and apartment buildings, dams, bridges—possibly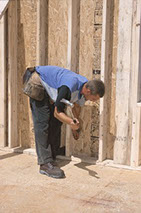 even the contour of the land—were produced by our industry. It's exciting, challenging, and very demanding work! Options for career opportunities in construction trades are almost limitless.
This site is designed to provide a quick glimpse of some of the trades involved in construction, along with information on how to access the excellent training provided through union apprenticeship and journeyman training programs.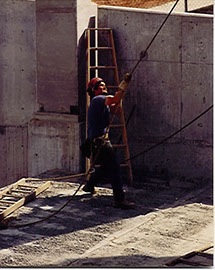 Basic requirements for most union apprenticeship programs are a high school diploma or GED, minimum of 18 years of age, residence in the Local Union's area of jurisdiction, and good health; some do drug testing. Some utilize aptitude or other testing along with interviews to select applicants. Often, openings are advertised in local newspapers, trade newspapers and magazines, and to groups representing women and minorities.
There are some things you should know when considering a career in construction, such as the seasonal nature of the work. Much of the work is outdoor in the heat/cold/wind/rain, and because construction

sites are everywhere, dependable transportation is a necessity.
Additionally, contractors and unions alike expect their workers to be dependable, on time, every time with no excuses.
Unlike days of old, today's construction workers need more than a strong back. Today, math and reading skills are important elements on the job where there are blueprints to read, grade stakes to interpret, installation and service manuals to follow, angles to calculate, material quantities to determine, and so on. Although it doesn't require a college degree, almost every trade demands good math and reading skills, dedication and caring, good work habits, and dependability.
The benefits, however, make it all well worthwhile! The wage and benefit packages are, of course, excellent. Beyond that, there is the training, not only for apprentices, but on-going programs for journeymen to keep abreast of changes in technology, materials, methods and equipment. Plumbers and pipefitters are, for example, trained to install medical gasses in hospitals and they are keeping up with state-of the art technology in HVAC computer controls. There is nothing that can compare with that special pride of seeing a building, bridge or highway that you helped to build still standing when you drive by years later. There is perhaps no other career that offers this special feeling of having made a lasting difference.

All in all, a career in the construction trades can be exceptionally rewarding. Plan now for one of these exciting career opportunities! Stay in school. Develop a good attendance record. Take math and English classes seriously—you will use it someday. Keep your body and your mind healthy. And remember, we look forward to seeing you on one of our crews in the future.
YOUR CAREER IS BUILDING IN THE CONSTRUCTION INDUSTRY

The Construction Industry offers you the opportunity to create and to build. Careers as craftworkers and professional management personnel cover a wide range of construction activities. The industry itself is diverse and embraces all kinds of projects such as office buildings, plants, schools, interstate highways, hospitals, churches, houses and tunnels. Large or small, the project is built carefully and capably by people with the ingenuity skill and education to create. This could be your world.
There are various ways to pursue careers in construction. The methods described herein involve a combination of education and hands-on training. This information will provide you with an introduction on how you can pursue a career in the construction industry which will be challenging, satisifying and financially rewarding.

This booklet will give you valuable information covering apprenticeship programs which are a combination of on-the-job training and related classroom instruction in addition to information on college entrance requirements for those people interested in pursuing an associate's bachelors or advanced college degree.
The first step! No matter which path you think you'd like to take, you must finish high school to be able to take full advantage of the

opportunities the industry has to offer. This is true if you want to be an apprentice, and it's true if you plan to be a construction engineer. A high school diploma is the key to your future in construction. After that, it's up to you.
Nationwide, there are over 100 colleges and universities and more than 300 two-year schools that offer construction education and training opportunities. Many fine schools are located right here in Michigan.
YOU CAN BEGIN A CAREER IN CONSTRUCTION IN VARIOUS WAYS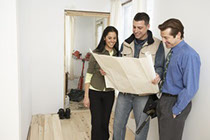 High School followed by training in a State Approved Apprenticeship Program.
For those men and women who want to enter construction as a journeyperson, local and state approved Apprenticeship Programs have been established. These programs normally run three to six years and combine on-the-job training with related instruction in a classroom environment. Apprenticeship Training is a major topic in this booklet. You will be learning much more about the crafts and their related apprenticeship programs.
High School combined with training in an Industry Approved Vocational Construction Program.
Those individulas who determine early on that they want a career in construction can attend vocational programs in carpentry, bricklaying, plumbing, construction electrician, welding and other trades. Graduates are provided with lists of local employers and the employers are provided with the names of current graduates. Training in an approved program can make entrance into trade apprenticeship programs easier and can possibly reduce the length of apprenticeship.
High School followed by Technical School or Associate's Degree Program.
There are many two-year programs available to people wishing to enter construction at the management level. These programs provide a background in general practices found in the industry and include cources in surveying, drafting, blueprint reading, construction documents, estimating, construction materials and management techniques.
High School followed by College.
College programs in construction management, civil engineering and other related programs prepare graduates who are capable of entering corprate and project management positions with a minimum of on-the-job training. Many college programs have evolved from industry liaison groups and are though yet practical. Competition for these programs can be intense, and classroom space is limited. Many college programs cover areas dealing with materials, mathematics, surveying, construction methods, hydraulics, planning and scheduling, estimating, cost control, accounting, construction law and labor relations.
Advancement after entering the industry depends on your effort and the needs of your employer. More and more projects of every kind are being planned and carried out, every dat, in almost every part of the world. But remember...the construction industry needs qualified people and a high school diploma is a necessary first measure of quality. Stay in school, get your diploma, then start your career!